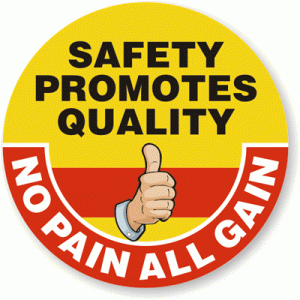 Despite the prohibition imposed by employers, workers continue to wear safety stickers on their work day in their aim to further encourage and promote safety in the workplace. The current safety promotion campaign is the result of the tragic death of three miners in Queensland within the year and after standards for safety across the industry has once again dwindled.
Steve Smyth, CFMEU district president, claimed in a report how the campaign to promote safety is being obstructed by major players in the mining industry with BMA prohibiting the placing of any form of campaign material including stickers on any BMA property that likewise covers hard hats used by employees in the workplace.
The CFMEU district president has expressed his disappointment how the big bosses at BMA, Anglo American, Rio Tinto, Vale, Stanwell, CS Energy, and Glencore have not shown agreement and support for the campaign and instead have banned their employees from wearing promotional items for the safety awareness campaign in their workplace.
Shaun McKenzie, BMA manager for employee relations, have commented formally in behalf of the company and said, "BMA is dedicated to ensuring the health and safety of coal mine workers and is supportive of all appropriate measures that persons and organisation within the Queensland coal industry take to promote safety awareness."
He added that while they acknowledge the safety awareness campaign that the Union is conducting to encourage and promote safety awareness in the workplace, the company would like to ensure that campaigns should be carried out in an appropriate manner. As for the BMA mines, no promotional stickers or posters should be placed on BMA other than those that have been officially provided by the company for the use of the workers.
On the other hand, a BHP spokesperson added that they are currently having continuous dialogue concerning enhancing safety standards across the industry with all of the involved organisations and authorities including CFMEU. The BHP spokesperson stated how they have their focus firmly set on real and tangible action to encourage the observance of safety policies in the workplace.
Smyth responded to the comment from BMA, considering it ridiculous after they have removed all noticeboards they have provided for the use of workers of the mining companies. He added to say that stickers do not pose any breach in the codes of workplace safety and are not even safety hazards themselves.
The CFMEU stated how one employer opposed the use of the safety stickers because they were considered graffiti. The Union representative explained that employees who are harassed and disciplined over little matters like stickers on their hard hats will never grow less confident to stand out and report serious and major issues including safety and even corners being cut.
CFMEU stressed that employees who put safety first and help improve its awareness in the workplace should be rewarded—and definitely not threatened with being sent home or being fired.