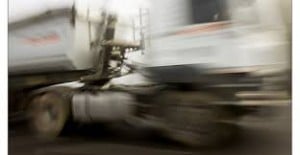 The reputation of Australia's trucking industry for being one of the country's most dangerous sectors has once again reinforced in a survey conducted, with hundreds of employers participating and admitting to more often than not breaking workplace safety rules to have jobs completed on time and admit to having workplace injuries considered as typical day-to-day risks at work.
Statutory authority Safe Work Australia conducted a survey that was participated in by more than 1,000 businesses of which 20 percent of the employers admitted to having broken basic safety rules to have work completed, as opposed to the average 6 percent of similar occurrences in industries where safety is closely monitored. Sadly, one in five employers agreed to consider minor injuries as part of the daily work as opposed to the 1 in 10 ratio in some other workplaces.
Truck drivers are rated to encounter the most exposure across all industries to dangerous gases and dust, vibration, loud noise, fumes, and heat of the sun, according to the survey. As opposed to other industries, truck drivers commonly experience strains and muscle problems, sprains, joint problems, and similar other injuries.
Safe Work figures show that every year, more transport workers die than in any other industry. Of 184 workplace deaths in Australia last year, 48 of which came from the transport sector. With 46 deaths, the forestry, fishing, and agriculture sector had comparable death rates.
Report on the safety culture survey that came out late month revealed that significant gaps between employers and employees were rampant, and these environment and attitude were particularly geared towards safety. Apparently, truck drivers and employees in the industry showed significantly less faith in workplace health and safety regulations as opposed to their employers.
The same report provided evidence of a widespread safety culture that was openly tolerant of risky workplace behaviour just to get the job done, which obviously contributes to the high rate of injuries and sadly even death in the work areas.
Around 90 per cent of employers believed that their businesses had good workplace safety standards in place that took into account of workers' well-being into consideration, as opposed to the 75 percent of employees who felt that all their safety concerns fell on deaf ears. The former were also less likely than the latter to agree that there exists a diligent reporting of accidents, injuries, near misses, and other health and safety concerns.
The Transport Workers Union leap on the report as evidence for breaking the rules and breaching the law that was rampant among employers, who put their drivers' lives at risk. The union called for the road safety watchdog established by the former Gillard government, the Road Safety Remuneration Tribunal, to hold top-of-the-supply-chain companies to be made accountable for rule-breaking in transport.
TWU National Secretary Tony Sheldon commented that drivers have been pressured to skip breaks and drive faster and for longer with overloaded vehicles in a highly pressured and tired state.
The Road Safety Remuneration Tribunal holds authority for setting pay rates for truck drivers as a means to improve their safety in the workplace. They have been regularly attacked by the industry for the unnecessary increase of regulatory burden placed on transport operators.