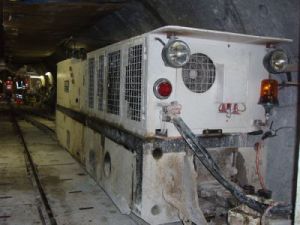 Underground WA mine sites are recording hazardous levels of cancer-causing diesel emissions that continue to raise the health and safety fears of the state's tens and thousands of underground miners.
Research conducted by the Department of Mines and Petroleum (DMP) showed that 28 out of 29 mines that were tested had intensely high "diesel particulate'' levels, which were way over the recommended safety limit that was originally set by the World Health Organisation.
Composed of tiny, cancer-causing, and almost-invisible particles that lodge in the lung tissues, diesel particulate is largely produced by the exhaust of machinery and vehicles from underground mines.
The Department of Mines and Petroleum's study was done on the WA Goldfields that are generally operated by the region's biggest and largest resources players.
Of the 29 mines examined, only one had a peak level below the recommended guideline of 0.1 milligrams for every submicron elemental carbon cubic metre as set by the World Health Organisation, while nine other mines abnormally spiked at more than six times the suggested standard including one site eleven times the maximum.
Due to confidentiality reasons the DMP will not mention which of the miners went over the limit, although they said the respective mine workers were informed of the results.
The study was a result of an investigation carried out by The Sunday Times that illustrated how WA underground miners were being put at a high risk, and when Peter Green, the mines department inspector-turned-whistleblower, made it publicly known that companies were doing their own air quality testing without the mining watchdogs policing the procedures.
Mr. Green said that in the wake of the latest testing, the inspectors were "gobsmacked" by the results that revealed diesel particulate levels that were quite high and that workers were "absolutely at risk—no doubt about it."
WHO likewise enumerates diesel particulate as carcinogenic and explains how underground miners are at a great risk due to the fact that diesel fumes and machinery naturally cannot escape mine shafts.
According to the Cancer Council WA, around a thousand West Australians are being diagnosed with lung cancer every year, although it is not clearly known how many are employed in the mining industry.
President Robert Vojakovic of Asbestos Diseases Society of Australia, representative and spokesperson of the underground miners, said that practices had considerably improved but mining companies still need to work more on how to greatly ensure worker safety.
A DMP spokesman said the department will be prioritising attention on mines that do not carry and implement proper emission management plans and guarantee that employee exposures are lessened, if not completely eliminated.
The department however does not believe that workers' health was at risk because some of the monitoring results particularly taken as worst-case scenarios were used as a means to determine potential exposure situations. But DMP was firm to say that it was working with independent groups of researchers to evaluate diesel particulate exposure and any possible risks to cancer.