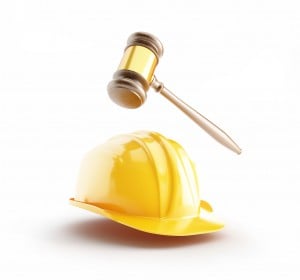 A company awaits its respective sentence after pleading guilty last month for a back-breaking fall that seriously broke an employee's back at a Nishi work site.
Twenty-year-old construction worker Jayson Bush fell more than 6 metres down a shaft at the apartment complex at the Nishi site in 2012. The construction worker landed on a concrete floor.
The twenty-year-old survived the fatal fall but lay completely helpless and immobile with serious injuries including a punctured lung, broken ribs, head and shoulder injuries, and a seriously broken back for more than two hours before a workmate finally found him.
WorkSafe ACT immediately worked on an investigation into the said incident with Corporate Ventures Australia Pty Ltd eventually being sentenced and prosecuted under the Australian Capital Territory's Industrial Court.
Last month, the Corporate Ventures Australia Pty Ltd pleaded guilty to their shortcoming. The Australian Capital Territory's Industrial Court will be sentencing the company on a single charge of failing to comply with a critical work health and safety duty that resulted in exposing a worker to serious injury and harm.
The said sentencing is the first under the new ACT Work Safety laws that relates to serious falls at workplaces. The Corporate Ventures Australia Pty Ltd is now facing a maximum penalty of $1.5 million with the sentencing to start on June 3.
The case on the Corporate Ventures Australia is one of many others currently being worked on at the ACT courts. On the other hand, the case on Munir al-Hasani, project manager at Kenoss Contractors Pty Ltd, as well as the company itself, following the death of Gunning truck driver Michael Booth continues after a hearing during the first few months of this year. The latter case is currently waiting on a return of subpoenas and will return to court later this month.
The prosecution of New South Wales engineer Phillip James O'Rourke as well as Schwing Australia following the demise of Ben Catanzariti, a worker at Kingston's Dockside development complex is likewise currently being worked on at the ACT Industrial Court. Mr. Catanzariti immediately died after a 39-metre boom from a concrete-pouring machine collapsed, hit him, and eventually caused his death.
One of the charges against Mr. O'Rourke was dropped by the prosecutors, although one charge against him still remains; while Schwing Australia is facing a couple of charges. The same case is being waited to go to hearing this coming August.
The prosecution case on Iqon and Nexus Electrical that has been charged for the electrocution of a worker at the redevelopment site of Canberra Hospital is also being waited on to be heard in August.
Canberra Contractors Pty Ltd is facing prosecution over the death of Wayne Vickery, the construction worker who was struck by a reversing grader on a construction site of a Macgregor project, as per the Australian Capital Territory Supreme Court's ruling.