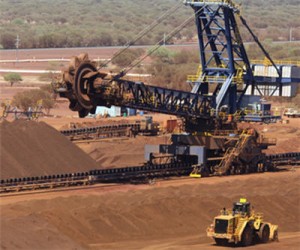 A fatality occurred at Fortescue's Creek mine when a young labourer died in a work related incident. It is the second occurrence in four months' that a worker was killed at the same mining site in Western Australia being operated by Fortescue Metals Group.
Fortescue defended itself by saying that the contract miner was killed while working in the mines workshop where the heavy vehicles are kept. The company said that the worker, along with a co-worker, were doing maintenance work when the incident happened. The other worker succumbed with leg injuries.
Other than its defence, Fortescue disclosed no further details of the incident. However, it said that the police have already been informed, and currently doing investigations, in coordination with the Department of Mines and Petroleum.
The police do not want to make the name of the fatality go public, but Fortescue said it is doing other counselling services to emotionally impacted workmates, as well as the deceased worker's family and friends.
Nev Power, Fortescue's CEO said that he is in grief upon learning about the sad news. He said, "Our thoughts and prayers are with the family and loved ones confronting the loss of a young life full of promise."
Another similar fatality, New Zealander Kurt Williams who is an electrician was crushed to death last August 2013. Adding to the fatalities was a worker who has an amputated leg after a truck incident happened at the same mine.
Below is the roster of incidents that occurred to date:
Dec 30
WA - Worker killed at Christmas Creek mine in Pilbara region
Dec 9
Tas - Two workers killed at Mt Lyell mine
Dec 4
WA - Worker killed at Newcrest mine near Telfer
Nov 30
NSW - Worker killed a Glencore mine near Singleton
Aug 15
WA - Electrician killed at Christmas Creek mine in Pilbara region.
Meanwhile, the Department of Mines and Petroleum has ordered the Fortescue Metals Group to implement stricter work safety policies and procedures. A greater direct supervision and safety inspection within Fortescue sites have to be done. The Department will likewise conduct an audit of the company's safety programs.
Mick Buchan who is the chief of Construction Forestry Mining and Energy Union said that employees have already reported their safety concerns to the union. He mentioned, "A lot of members come to us and they wish to remain anonymous as far as that goes. You've only got to have a look at a few of the multimedia sites, some of the mining chat rooms and that, to see that there are some fair dinkum concerns out there."