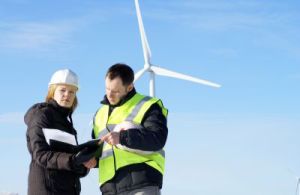 WorkCover NSW has issued a bulletin to businesses to be conscious of the risks of working during windy conditions. John Watson, GM of WorkCover's Work Health and Safety Division said, "High gusts of winds are unpredictable, and cause a range of serious workplace hazards associated with flying objects, working at heights and an increased risk of collapsed structures."
He further believes that for those working outdoors like construction sites, it can play a critical role in workplace incidents. It is also important to make sure that any lose equipment like cladding roof sheets or things that can be easily blown by the wind are safely secured. The center of gravity and speed of the wind may also create a negative impact on the proper functioning of a machinery.
"In 2008, three bricklayers on a Botany construction site narrowly escaped serious injury when a wind gust caused the wall they were building to collapse, forcing them to jump 1.8 metres from scaffolding. Wind speeds are often stronger and faster at heights so operating cranes or using powered access platforms need additional caution to prevent over tipping", Mr. Watson said.
Materials that are leaning against a wall that is under construction or side loads may lead to collapse of the wall or scaffolding.
If you are working in a worksite that has a lot of gusty winds, all nearby hazard prone factors must be addressed like standing too close to trees, loads and overhead power lines. These are the precautionary measures:
Protect eyes from debris and dust by wearing eye protection.
Ensure strong structures by checking surrounding structures during strong winds.
Restrain objects that can be easily blown away by strong winds.
Wear protective gear against falls.
Do not stand near stacks of materials and structures.
Mr. Watson concluded his statements with, "It is essential that businesses conduct a site-specific risk assessment, ensure adequate planning and preparation to ensure all hazards are controlled, employers and site controllers should talk with their works when high-gusty winds are expected."
Bundaberg Audits Revealed Breaches
Overcrowding accommodations, work accidents and illegal workers were the recent findings in the audits in Bundaberg and Childers regions by the Workplace Health and Safety Queensland.
Majority of the breaches that were discovered related to lack of plant guarding such as belts and pulleys and shaft covers. Hazards were also noted in use of chemicals and safe work systems. Information on the audit was taken from intelligence gathered from hostel and backpacker surveys along with farm inspections.
There are quite many cases where backpackers were exploited. It is already necessary for the concerned government organisations to work together to eradicate this issue.