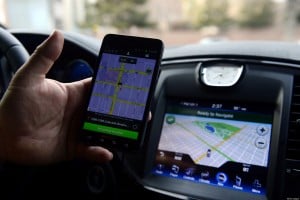 Under work safety laws, experts warn Australian companies that allow their personnel to use Uber rather than the regular taxi service risk having to face heavy penalties while on work-related travel.
UberX, an app-based network where drivers use their private vehicles as hire cars, continue to receive negative feedback from the Australian state governments as well as the taxi lobby.
Today, workplace lawyers have voiced their concerns on employers that allow their staff to use the controversial service as it could point out some breach on their duty of care.
The law firm Holding Redlich explained that UberX's popularity is incredibly booming in Australia but that its use should be banned by companies and businesses as the application network is not licensed and regulated. It is also concerning for the authorities that the cars for hire do not have surveillance cameras that could help discourage potential attacks.
Joel Zyngier, a senior associate in workplace relations, claims that the UberX service is unregulated. He added that it was easy for a driver of UberX service in Melbourne to get approval for a driving license with a simple 30-minute induction and after the presentation of a birth certificate, an insurance policy, and corresponding driver's license.
The senior associate explained that while the ride-share service can be a safe travel option, by law, an employer is obliged to ensure their staff is given the safest option there is so far as is reasonably practical. The employer's inability to do increases the risk of these employers to face prosecution and penalties, according to workplace health and safety laws.
In response to the warning to Australian employers, Uber continues to defend their ride-sharing service, claiming its safety for use. The company's spokeswoman explained how all Uber driver-partners have passed criminal history and driving history background checks and all trips are covered by insurance with a contingent liability cover of $US5 million.
The spokeswoman added that the safety features of the app are well implemented with the rider knowing the driver's name, registration plate, photograph, and car model before they get inside the vehicle so there is zero standing out on the street for any risks of getting an anonymous ride.
She further claimed how thousands of Australian workers were opting to use the controversial ride-sharing service to travel safely and at the same time making huge savings for their business.
The Uber spokeswoman added that Holding Redlich seemed to not have conducted the appropriate research on Uber's background checks, processes, and insurance standards leading them to conclude that their opinion was not based on facts.
The calls for employment travel regulations to prohibit the use of the service came after the release of statistics that showed business travellers are progressively circumventing taxi-rank queues in favour of UberX. Data from Certify, a U.S. expense-management company demonstrated 47% of road travel by their users in March was made through Uber, a figure that has considerably increased in a span of 12 months.