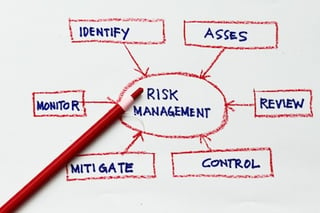 Risk management is one of the most complex tasks facing medium sized businesses. The broad spectrum of potential risks, their unpredictability and the regulations that go with being prepared can appear daunting.
But with a clear, systematic approach your business can develop a robust risk management plan.
Here's a breakdown of the risk management process to help you prepare for just about anything:
Identify the hazards
The first step to any risk management plan is identifying the hazards. These will be different for each company, but can be broadly defined as:
People: staff, customers and other stakeholders.
Processes: manufacturing, sales, financial, delivery, communications, IT.
Premises: the buildings and facilities where you operate.
Providers: contractors, third party suppliers and other external stakeholders.
Profile: brand, image and reputation.
Performance: benchmarking, evaluation and review processes.
Each of these areas will have its own unique set of hazards that present your company with potential risks.
Identify and assess the risks
Based on these hazards, what are the risks your company faces? In identifying the risks it might be worth brainstorming with relevant staff, reviewing all aspects of the business and work systems to identify where your company could be exposed to risk, developing 'what if' scenarios and researching the data relevant to your company including injury rates, insurance claims and death rates.
Evaluate the risks
Once you've outlined the potential risks, next you have to fully evaluate them.
Through this process you need to fully assess the likelihood of each risk, its individual consequences, and whether there are acceptable and unacceptable levels of risk to your company. By following these steps you'll be able to identify your company's priority areas for action and how each risk should be treated.
Address the risks
Once your risks have been identified you need to develop ways to plan and prepare for them, reduce them, or eliminate them all together:
Contingencies: Plan in advance for how your business will respond to a negative event or a risk occurring.
Sharing: Can your company use waiver forms or other legal documentation to share the risk with contractors or other external providers?
Insurance: Prepare your company for risk by preparing insurance policies that protect it in the event of a risk coming to fruition.
Avoidance: Can your business avoid the risk all together by no longer performing that particular activity or operation?
Financing: If you decide to continue that activity or operation, should you consider setting aside funds to pay for any potential consequences?
Reducing: Would a change to work practices help reduce the risk?
Monitor and review
Risk management is an ongoing process. Your plans need to be periodically reviewed to ensure than they remain responsive and up-to-date with your identified risks. But your company also needs to scan for new and emerging risks that could present any potential headaches for your business.
Communicate
It's important that at every stage of the process you're communicating with your company and its management team. Often they will be the ones to decide on the action your company will take to address its risks. If they're fully aware of the risks your organisation faces they can make informed decisions about the best ways to address those risks.
We're available to help
Work Safety Hub is an approved provider of the WorkSafe Victoria OHS Essentials Program. This initiative offers eligible medium sized businesses a free safety consultation and action plan. Our safety consultants are available to work with your business to assess your specific risks and review the plans and policies you have in place. If you're an eligible medium sized business, this service can be delivered at no charge.