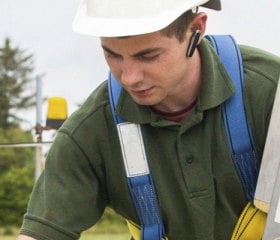 According to Herta A Murphy, Herbt W Hildebrandt and Jane P Thomas, authors and editors of Effective business communications, using 'the seven Cs' helps construction managers and workers to become better communicators by selecting the message content and style that best suits the purpose and recipient of a message.
The seven Cs are applicable to both written and verbal messages. The sender (speaker or author) should plan and prepare to ensure that each communication is:

Complete
A complete safety and health communication should answer six questions:
- Who?

- What?

- When?

- Where?

- Why?

- How?
It should include all the facts the target audience needs to fully understand and, if necessary, respond. It should aim to leave no questions in the mind of the receiver.
As a result it:
- aids better decision-making, as the recipients gets all the desired and critical information that's relevant to them

- saves the time and costs of additional 'fill in' communication

- develops and enhances the reputation of the sender/ department/organisation

- ensures shared meaning.
Concise
Each message should communicate relevant information to the receiver clearly, without unnecessary wordiness, ambiguity or irrelevant detail. Concise information:
- focuses on the key message(s)

- is more appealing and comprehensible to the audience.
Clear
Don't use technical or business jargon unless you're confident that your audience is familiar with the terms. A clear communication focuses on a specific message or goal, rather than trying to achieve too much at once. For clarity, use exact and appropriate language. Clear communication:
- enables audiences to understand a message effortlessly

- enhances the meaning of the message.
Correct
All information in a communication should be checked for accuracy. Correctness also refers to the use of proper punctuation, grammar and spelling. Correct communication:
- has a greater impact on the audience

- increases confidence levels in the communicator.
Concrete
Supporting a message with concrete facts and figures as appropriate makes the communication more solid and convincing. A concrete message:
- strengthens confidence in the overall message

- minimises the potential for misinterpretation.
Considerate
Effective communication should consider the target audience. Strive to empathise with the audience's viewpoints, background, mindset and comprehension levels, and make your messages personal. Emphasise what's possible rather than what's impossible. By showing an interest and fostering mutual respect, communication becomes more valuable. Consideration:
- stimulates a positive reaction from the audience

- conveys optimism.
Courteous
Courteous communication is where the message sender is sincere, polite, judicious, reflective and enthusiastic. Courteous communication:
- takes other viewpoints into consideration

- is positive and audience-focused

- is unbiased.
Effective business communication

Complete

Concise

Clear

Correct

Concrete

Considerate

Courteous