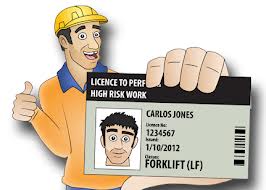 WorkSafe Australia warned employers to check its employees' High Risk Work Licenses after rampant reports of incidences of fake licenses that were being issued in New South Wales. WorkSafe Commissioner in Western Australia Lex McCulloch emphasized that High Risk Work Licences are only allowed to be granted to workers who underwent appropriate training.
The Commissioner further stated, "In agreeing to adopt the national licensing standard back in 2007, the important role that high-quality training plays in helping provide workers with the skills to perform high risk work safely and competently, was acknowledged. These licences apply to anyone engaged in work considered to be "high risk, including scaffolding, dogging and rigging work and the operation of cranes, hoists, pressure equipment and forklifts."
There are two fraudulent High Risk Work Licences that were caught recently in Karratha when two labourers visited the Department of Commerce office to apply for additional rigging classes to their licences. Mr. McCulloch was surprised by the fraud, being committed saying, "It's quite alarming to think that there could be workers out there who believe they have received the proper training when they may not have – they may be endangering themselves and everyone else around them."
The accused workers had previously worked as riggers and been given NSW High Risk Work Licenses. They went to Karratha to upgrade their licenses. After the assessment, they went to the Department of Commerce office. The procedures to check the validity uncovered the fact that the two licenses were indeed fraudulent.
"Only two of these fraudulent licences have been detected, so there is no reason for unnecessary alarm. However, we need to maintain our vigilance and spread the message that High Risk Work Licences issued in NSW need to be verified." said Mr. McCullough. "The good news is that the checking procedures in place did work and the fraud was discovered," he added.
The licences were labelled High Risk Work Licences for some main reasons. It is not only there to be presented to employers, it's purpose is of major concern that licence holders are not probably properly trained to perform the type of work competently and safely. Hence, Assessors and Registered Training Organisations are urged to verify NSW licenses with the licensing office before accepting workers subject to further training.
"I urge employers, assessors and trainers to be on the lookout for High Risk Work Licences issued in NSW. "If you encounter one of these licences at your workplace, it should be verified by telephoning the Licensing Solutions Unit of the WorkCover Authority of NSW on 1800 335791." said the WorkSafe Commissioner.
A licence to do high-risk work is mandatory if the worker is exposed to a high risk equipment or plant. An Australian can apply for 29 classes of competency through this license. It is only valid in every Australian state and territory to qualify a worker to operate a high-risk equipment under consistent standards anywhere in Australia.
Licenses that were issued from 1 July 1995 to 30 June 2007 have expired with the last set of licences to expire on 30 June 2012. Thus, the worker must ensure to transfer across to the valid licence in order to perform high risk work before the said date. If this is not done, they will not allowed to perform the work activities that the licence is allowed to cover for.